Soon after elections of the American president on the country the wave of propaganda processions of gays and lesbians has swept.
They demanded equality. If to face the truth, they have equality, anybody does not punish them for in what they are engaged in the personal bedrooms, but they have not enough of it, they constantly excite the public, drawing to themselves attention, propagandising the sexual life, imposing the given type of sexual relations all and all.

Impose by means of a megaphone of mass-media. Some weeks all television screens, even rather serious news programs, were shaken with war round the Ms. of America. Well the statement of the Ms. of America was not pleasant to one of gays, he has expressed in this occasion rather cynically, but what for to make around it noise all over the country?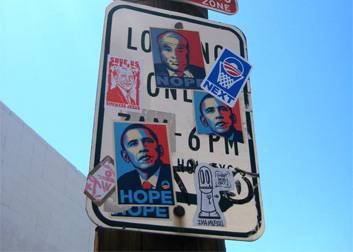 Have pulled together huge forces, put a microphone to lips of stars and inhabitants, millionaires and politicians.
The Ms. of America has decided «to beat out a wedge a wedge»: has declared, that the same sights at marriage at an idol of the country of Barack Obama.
But campaign did not stop, because with arrival of liberals to all double-entry bookkeeping takes place: two we write — one in mind. Officially the president has the wife and children, but informally (because the official press does not discuss this problem) on book shelves there was Larry Sinclair's book «Barack Obama and Larry Sinclair — Cocaine, Sex, Lie and Murder?» About unisex sex of the author with «the future Supreme commander in chief». Why the white House is silent? In his hands the unknown power is concentrated... Probably to the White House it is favourable, that in air hung — "perhaps". After all it too voters.

Meanwhile, Gay and Lesbian Alliance Against Defamation — GLAAD with pride has informed on the achievements: «this year after three-year recession number of gays and other representatives of sexual minorities in films more than will double. Programs with heroes LGBT will make 2,6% from all displays of TV in 2009 in comparison with 1,4% in 2005, 1,3% in 2006, and 1,1% in 2007». Active workers of sexual minorities are happy with work of television channels ABC and NBC, but criticise cable networks where the number of their heroes has decreased with 40 to 32, and also channels CBS and Fox.

Owners of the White House throw down a challenge of traditional morals.
According to approximately 2,8% of men and 1,4% of women lesbians or bisexuals are identified as gays. Thanks to huge advertising last years of men of 9,1% and 4,3% of women participated in unisex sexual relations at least once. Why participated without physiological predisposition? Because it is fashionable.

The percent grows thanks to propagation influence. The propagation, the come to power liberals. US State Secretary Hillari Clinton has published an explicit statement on the occasion of a month of gays and the lesbians, founded by her husband in 2000 in which the governmental plans accurately appear: «... I highly appreciate courage and resoluteness of gays, lesbians and the bisexuals, shown by them within last forty years, and I offer our support in that important work, which else it is necessary to execute».

She has noted and State department work: «We are grateful to our employees-lesbians, gays, bisexuals and the transsexuals working in Washington and worldwide».

Proceeding from this extremely frank statement, the government is going to entrust these people any extremely important work, important in universal scale...
Related Posts: USA